CH-Bioforce Awarded the Entrepreneurial Spirit of Turku Prize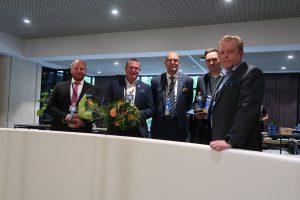 CH-Bioforce awarded in Born Global category of the Entrepreneurial Spirit of Turku 2021
This year, the Entrepreneurial Spirit of Turku prizes were awarded for the 18th time. The tradition began in the early 2000s with the European Day of Entrepreneurs, which was celebrated in Turku along with a host of other European cities. In recent years, it's been standard protocol to hand out the award as part of Turku's Europe Forum.
We are happy to tell you that we got recognition as we won the prize in the Born global category! In this category, the focus is on global success. The nomination and the win were generously handed to "a company that is part of the global market, and much of its production is exported abroad".
"CH-Bioforce has, from the very start, being able to combine design, production, and marketing successfully. Wide-ranging collaboration with customers, distribution channels, and even competitors is the key to the recipient's success", speaks the awarding jury.
Our hard work and success in developing an entirely novel way of processing biomass and use them as material in, for example, packaging, textiles, and the chemicals industry, is paying off.
"For us, this is an exceptionally great award and we thank our colleagues, the Turku Business Region, and Turku Science Park Oy for this great recognition", says CEO Petri Tolonen. "I also like to say congrats to the other winners Langh Tech and Raisio – nice job!"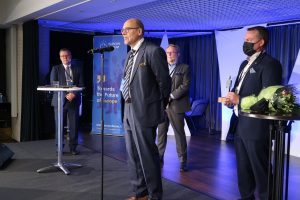 The future is now
This award is a clear sign that we are at a glimpse of the future, and we might say that the future is here. We see that the technology is ready to be commercialized and scalable for many industries.
Our technology makes it possible to replace oil- and food-based raw materials in innumerable applications. The innovation revolutionizes the industrial raw materials base and that way the entire process of bio-based product manufacturing globally. CH-Bioforce's pilot plant is located in Raisio's Smart Chemistry Park, which is the site where produced materials have been widely tested with universities, research institutions, and other partners. Regional university expertise is a major factor in the enterprise's success, especially Åbo Akademi's chemical engineering research.
"We are happy about the award that has been given us based on our R&D work and verified fractionation process. I promise, we will make moves towards the higher goals and cooperation possibilities soon", promises Tolonen.
CH-Bioforce Oy
CH-Bioforce Oy is a Finnish start-up founded in 2016. The company's innovative fractionation technology dates back to 2011, when inventors Lari Vähäsalo, Nicholas Lax and Sebastian von Schoultz made their first findings. Today, the company forms part of the Chemec group, which operates in the chemical industry. CH-Bioforce currently employs ten members of staff. Our R&D and pilot plant is located in Raisio, Finland.
For more information
+358 40 539 6609

mari.taipale@ch-bioforce.com