Woodly To Join In Collaboration With CH-Bioforce For Future Projects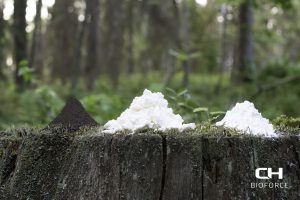 Woodly and CH-Bioforce are investigating the opportunity to develop ingredients for Woodly plastics production from feedstocks of waste and residue origin 
Innovative utilization of side-streams is an important part of resource efficiency and circular economy. Two Finnish innovation start-up companies – Woodly and CH-Bioforce – have decided to jointly investigate how to develop and process non-wood based feedstocks of waste and residue origin. Woodly offers an alternative to customers who want to reduce fossil-based plastics. Woodly® material is currently based on wood-based cellulose but having the same characteristics as conventional fossil-based plastics.
CH-Bioforce has developed a technology that fractionates all biomass main components in one process while raising material efficiency from less than 50% to over 90%. The resulting biopolymers – cellulose, polymeric hemicellulose, and sulphur-free lignin – are all extremely pure and of high quality.
To combine these two inspiring innovations, namely CH-Bioforce technology and Woodly® material, CH-Bioforce and Woodly aim to research the possibility to utilize waste and residue streams as a feedstock for Woodly plastics production.
"Our technology is feedstock-flexible, and it enables the conversion of current waste material to valuable biopolymers that can be used in higher-value applications, for example in the chemical industry. Therefore, we see the collaboration with Woodly highly beneficial to investigate options of bio-based raw materials for Woodly plastics," says Petri Tolonen, CEO of CH-Bioforce.
Woodly is committed to improving the environmental impact across the entire value chain — from raw materials to the brand itself.
"We are excited to work with CH-Bioforce, as they have a technological concept which can process waste- and residue-based feedstock. There is a potential to further improve carbon neutrality of Woodly® material," summarizes Jaakko Kaminen, CEO of Woodly.
_______________________________________________________________________________
Woodly Oy is a Finnish company developing materials technology, whose commercial product is a new type of plastic-based on wood cellulose – Woodly®. Woodly® material has the same characteristics as conventional fossil plastics but with the added benefit of being carbon neutral and recyclable. In addition to packaging, it can be used to produce products for different uses.
Contacts:
Petri Tolonen, CEO CH-Bioforce Oy
Tel. +358 40 722 0372, email: petri.tolonen@ch-bioforce.com
Jaakko Kaminen, CEO, Woodly Oy
Tel.+358 40 590 0035, email: jaakko.kaminen@woodly.com
CH-Bioforce Oy
CH-Bioforce Oy is a Finnish start-up founded in 2016. The company's innovative fractionation technology dates back to 2011, when inventors Lari Vähäsalo, Nicholas Lax and Sebastian von Schoultz made their first findings. Today, the company forms part of the Chemec group, which operates in the chemical industry. CH-Bioforce currently employs ten members of staff. Our R&D and pilot plant is located in Raisio, Finland.
For more information
+358 40 539 6609

mari.taipale@ch-bioforce.com