Three scientists and a garage – This is how it all started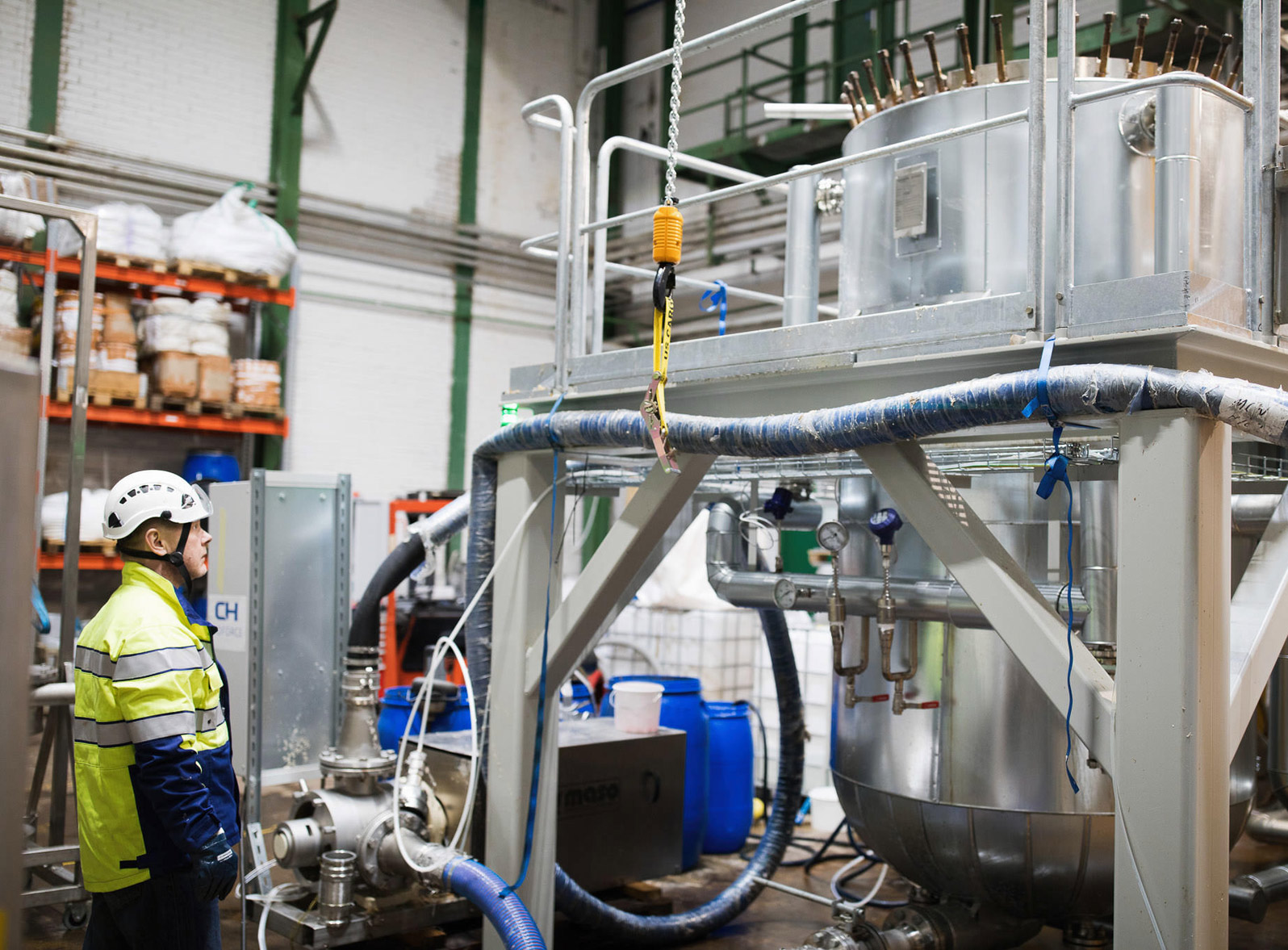 Ever wonder how innovation happens? Here's the story behind CH-Bioforce's ground-breaking technology.
Where there's a will there's a way
Finland is a land of forests and lakes, and we have a long history of using wood for pulp, paper and board. However, the start of the new millennium saw several pulp and paper mills closing due to changes in the global economy, and the future of the former backbone of Finnish industry did not look promising.
In 2011, wood chemistry specialists Sebastian von Schoultz, Dr Lari Vähäsalo and Nicholas Lax were brainstorming how to ensure a continued need for their expertise. They had a remarkable portfolio of patents and scientific publications and were certain they could invent something totally new.
In their laboratory experiments in von Schoultz's garage, they made a surprising discovery. By using vacuum and ensuring precise chemical control, it was possible to extract hemicelluloses in high yield and purity in their native polymeric form. No competing process was able to maintain this polymeric form, or else the yield and purity of extracts were minuscule. von Schoultz, Dr Vähäsalo and Lax realised they had created something special and started to develop their findings further.
Can it really work? Yes it can!
It soon became clear that the innovation worked even better than first thought. It was also clear that if they really wanted to commercialize this completely new process, their personal financing and efforts alone would not be sufficient. In process industry, you either make a significant investment in the next step and build a complete or partial process, or not. It may also take over 10 years to develop a completely new process technology from scratch to a commercial level.
That meant dedicated partners were needed to get out of the garage. The first believer in the technology was Chemec Oy, a Finnish chemical industry SME. It is a producer and distributor of chemical products for industries such as paper, board, paints and coatings, and already saw the signals of the growing market demand for bio-based chemicals. It was a win-win partnership.
Solution for a global market demand
The next step was to build and test a biomass fractionation process, to lab scale but otherwise complete, which gently extracted biomass into its three main constituents. It proved that it is possible to produce high-purity pulp, polymeric hemicellulose and sulphur-free lignin in a single, economically viable process. This was something that no-one had been able to do so far, and the solution to a global market demand.
In addition to the owners' contributions, Business Finland, the Finnish state organization for innovation funding and trade, travel and investment promotion, gave significant financial support.
New goal reached: automated pilot production line now fully functional
As of 2019, thanks to funding from the EU's Horizon 2020 SME programme, we have been able to build an automated pilot production line, with several pre-treatment options for the fractions produced. The new production line allows us to serve our customers with material samples weighing hundreds of kilos, and to a higher, more controlled quality.
In the past two years we have successfully fractionated several kinds of feedstock, such as wood and straw, and have produced many tons of high-quality dissolving pulp, hemicellulose and sulphur-free lignin for global customers' further testing and application development. The results have been very promising, and our bio-polymers provide a truly sustainable alternative to oil-based materials in multiple industries.
Follow us for latest news!
Twitter @CHBioforce
LinkedIn CH-Bioforce Oy
YouTube CH-Bioforce Oy
CH-Bioforce Oy
CH-Bioforce Oy is a Finnish start-up founded in 2016. The company's innovative fractionation technology dates back to 2011, when inventors Lari Vähäsalo, Nicholas Lax and Sebastian von Schoultz made their first findings. Today, the company forms part of the Chemec group, which operates in the chemical industry. CH-Bioforce currently employs ten members of staff. Our R&D and pilot plant is located in Raisio, Finland.
For more information, please contact:
R&D Director, CH-Bioforce Oy
+358 40 351 2820

lari.vahasalo@ch-bioforce.com